…Promise to Empower Widow and Student in the Phase Two.
Hon. Dr. Jacob Funmi Ogunmola, House of Representatives Candidate for Accord Party has empowered over 300 farmers with fertilizer across the old Ifedapo constituency in Saki.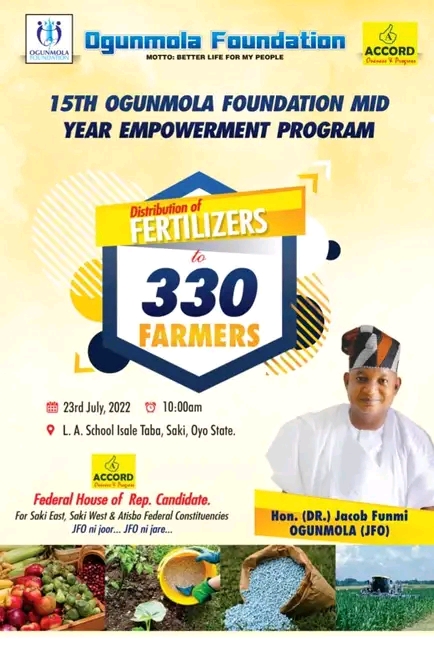 Dr. Ogunmola described the step as apolitical and a pure philanthropic mission to encourage agriculture in Ifedapo constituency and solve the problem of hunger.
He furthered that the empowerment is just a tip of an iceberg as he planned to empower widows across the zone and strengthen them with livelihood material that can remove them from abject poverty.
Hon. Ogunmola also promised to reward the best students across secondary school in Ifedapo in order to encourage educational development in the era of retrogression in the sector.
He urged politicians to be people-oriented and liberate followers out of poverty as he is keen to make sure people enjoy the dividend of democracy if voted for and promised to continue with his philanthropic mission.
He noted that by the end of the year, the programmes highlighted for widows and students will take place and people will benefit massively from it.