The leading social club in Oke-Ogun area of Oyo State, known as the Great Club of Oke-Ogun, has today distributed food materials to the Special School of handicapped along Army Barracks road, Saki, Saki West Local Government.
This is part of the yearly corporate social responsibility activities lined up for the year by the club.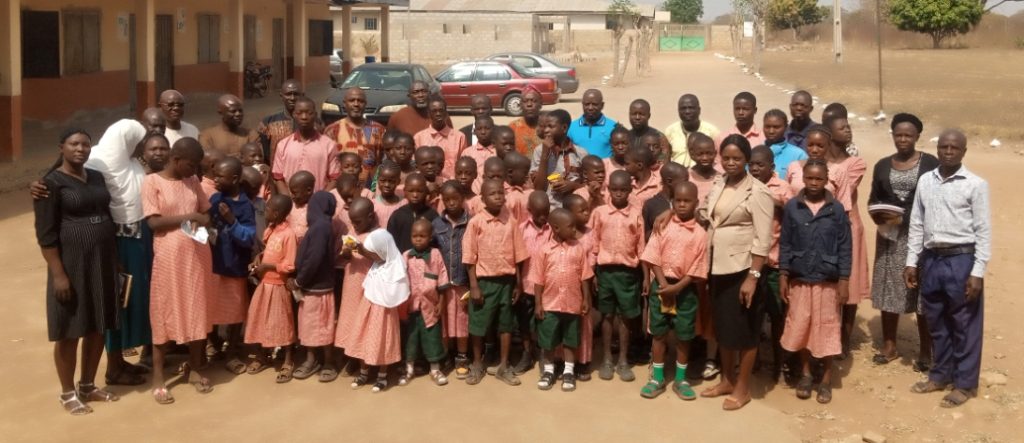 Food in various varieties was distributed to the special kids housed by special school of handicapped, Saki to cater for their welfare and make them feel loved and accepted by society.
According to the chairman of the club, ESV. Alh. Abdulradaq Abidiesin noted that the essence of the visit and contribution was to send a strong message to society that these children needed to be seen as important members of society and needed to be shown love.
"Special children shouldn't be neglected because they are unique in their own ways, and we need to let them realize that by paying them adequate visits and showing them love."
"The activities we came here to do are part of our agenda and objective, to project to the world that we preach love and support the society to make it a livelihood for all."
In addition, the club has been doing great activities across the local governments in Oke-Ogun area and will continue in her efforts to be a role model for others through her activities.
Alhaji Abidiesin urged the parents and guardians of the special children to make sure they pay visits to these children and help them with what they need to reach their potential and add value to the society.

In her response, Mrs. Eniola J. O, the head teacher of the school, appreciated The Great Club of Oke-Ogun for including humanitarian service in her activities and finding children with special needs as beneficiaries of their project. She added that such activities can strengthen love in society and motivate the children to add value to it.
Other members of the club present at the event were the vice chairman chairman, Mr. Ojo Joel Adeola, General Secretary, Mr. Tijani Idris Alawiye, Assistant General Secretary, Mr. Yaqoob Majeed, Treasurer, Alh. Nasir Balogun, Financial Secretary, Esv. Olatundun Joshua, Auditor, Mr. Ajibade Mudasiru, Chief Whip, Mr. Dauda Abdullahi, Social Secretary, Mr. Y.A Shittu, and members includes Com. Ajuwon Ibrahim, Mr. Tiamiyu Rahman, Mr. Ajagbe Sunday, Mr. Ganiyu Gbadamosi, Mr. Balogun Saidu, Esv. Busari Ibraheem, Mr. Badru Taofiki and Alh. Dauda Aderogba.