It was an educative and fun-filled atmosphere at Saki West local government staff corporative hall where the public lecture and get-together ceremony of The Great Club of Oke-Ogun Saki held.
The event was the final ceremony of week long activities of the club which includes prayer session, humanitarian visit to hospitals, among others.

The event was organised to raise the standard of her members and devoid them of living an undervalued life after service.
The programme was Chaired by the former minority leader of Oyo state House of Assembly, Hon. Tunji Rafiu Adekunle who appreciated the members efforts to come up with brilliant ideas to improve the welfare of her members. He stressed forward to highlight the opportunity available for civil servants after the active service and made reference to himself as a case study who left the service and divert to politics as a result of his love for public service. He charged them to venture into politics business and other sectors of economy to uplift the status of the society.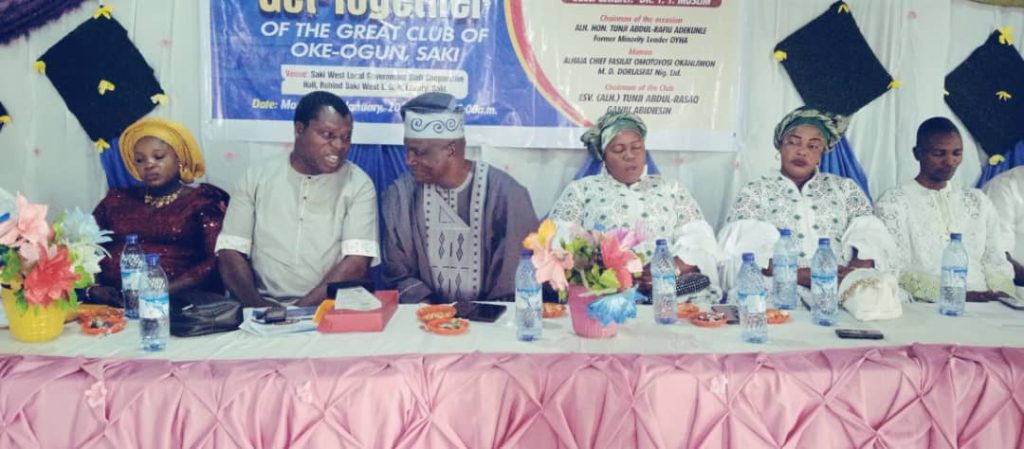 The Guest speaker of the day, Dr. Y.Y. Muslim who gave lecture on "post retirement wellness and the imperative of savings mobilization in active service" noted that several factors should be considered while preparing for retirement which are investment value, saving plan, entrepreneurial activities while in service and arresting the opportunities provided by digital technology.

Muslim continued by identified the threat to life after retirement which includes age falsification on the part of workers and corruption on the part of government, he admonished workers to avoid falsifying their age because of its adverse effects on their health after retirement.

The chairman of the club, Alh. Abdulrasaq Ganiu Abidiesin during his speech appreciated the support of the members towards the success recorded by the association and promised to extend the benefit beyond to the members of the club.

In the same vein, the Matron of the club, Alhaja Fasilat Omotoyosi Okanlomo was awarded for her solid support towards the success of the club and the award was presented by the chairman of the event, Hon. Tunji Rafiu Adekunle.
The event was graced by Dr. Y.Y Muslim, Hon. Tunji Rafiu Adekunle, The proprietress of Imam Zakariyah group of school, Alhaja Busari, the legal adviser of the club, Barr. Afolabi Kunle, The Matron of the club and the Managing Director of Dorlasfat Nigeria limited, Chief. Fasilat Omotoyosi Okanlomo, members of the club, among others.